travel
I'm ending my long weekend the way I began it — hanging out in an airport for 4+ hours. Different airports — Baltimore on Thursday, New Orleans on Sunday — but they both have the same unsettling mixture of being simultaneously busy, anxious and lonely. Or maybe that was just me. I'll spare you the details of my traveling travails, but between the Polar Vortex and my own absentmindedness, it was a wonder I got anywhere I was trying to. And I'm not even on my plane home yet.
I had considered waiting until I'd had a chance to "decompress," catch up on work, and generally give myself a chance to create something more brilliant and insightful. But I'm taking this time in limbo to journal my impressions of Dad 2.0 Summit while they're still fresh.
As my arrival in New Orleans was 6 hours later than planned, I missed the conference's opening party. I had to force myself not to imagine all the hugging and backslapping and toasting going on as my network of dad blogging pals reconnected or (as in many cases) met in person for the first time. My tireless and generous friend Don left said party to pick me up from the airport (it was his fourth trip of the day) and as I trudged wearily into the lobby of the hotel, several of the men I'd become closest to came bounding out of the bar to greet me with all that hugging and backslapping I'd not been dwelling on. As I made my way through the lobby and up to my room, I was met with cheers of "Brent!" from even more of my until-then virtual friends. I felt like a rock star. Or at least Norm. It was already shaping up to be a pretty stupendous time.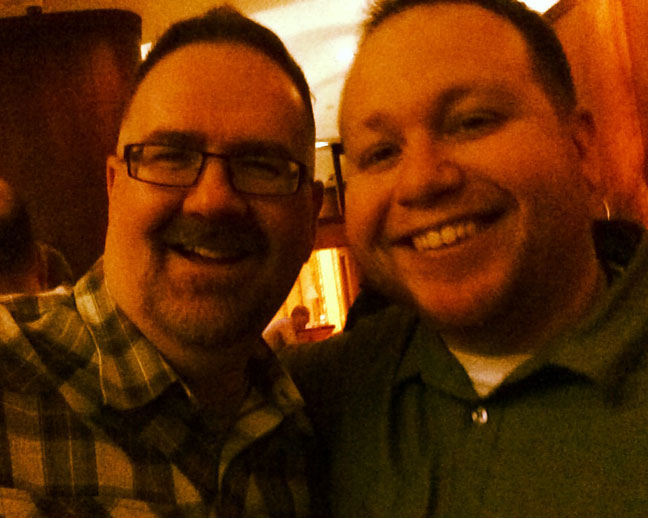 After a very late dinner of bourbon and beer (and more meeting and backslapping and hugging), I called it an early night.