This past year marked the ten year anniversary of a couple of personal milestones: becoming a father and the birth of this blog. To commemorate a decade as both Daddy and Designer Daddy, I'm sharing a series of Top 10 lists. Each post will feature the most amazing/fun/memorable things/experiences/whatevers from the last ten years.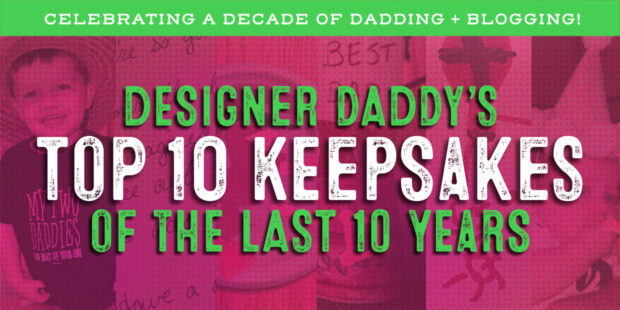 You may have noticed that I don't write about my son as much lately. Once my kid (and perhaps more importantly, his friends) became old enough to read and surf the internet, privacy was more of an issue. It was cute sharing about my son's potty training when he was a toddler. Not so much now that he's a tween.
Nowadays my more personal writing falls mainly into two categories: sharing my vast (ha!) dad knowledge and reminiscing about the past. For the latter, I've enjoyed documenting many of my fatherhood faves from the last decade. For this list, I rummaged through the basement and have collected my favorite parenting keepsakes.
WHAT'S WORTH SAVING?
I've never understood the tradition of parents keeping their kid's baby teeth (though I'm sure we have a few rattling around in a box somewhere). The same goes for locks of hair, newborn footprints, plaster hand molds. Those things don't evoke memories for me; they're just biological snapshots…and a little bit creepy.
The items I've chosen here tell a story, elicit a multitude of emotions, and remind me of how much I've loved being a dad. I should do this more often!