travel
It was one week, more than three years in the making. At long last, Camp Kesem at the University of Maryland was a reality.
The campsite was set on a tiny peninsula in southern Maryland, where the Potomac feeds into the Chesapeake. It looked like any other summer camp — bunk houses surrounded picnic tables beneath a giant oak; paddles and canoes stacked alongside a murky, green river; a swimming pool, a mess hall, a fire pit. But this camp was unique. It had a history; a tragic yet inspiring origin story. Created by the literal blood, sweat, and tears of a family, a community, and a university.
To tell the full tale would require more words than a single blog post warrants. However, if you've known me or this site for any length of time, you're probably familiar. All you really need to know is that a loving father named Oren lost his life to cancer; this inspired 12 other fathers to hike across Northern England to raise money for a camp in his honor. This is that camp.
As with every Kesem chapter, the campers are kids whose parents have been touched by cancer — whether a survivor, in treatment, or victim. Yet much more than "cancer camp," I've attempted to do it justice with a few pictures and a smattering of words.
.
CAMP KESEM, IN PICTURES
.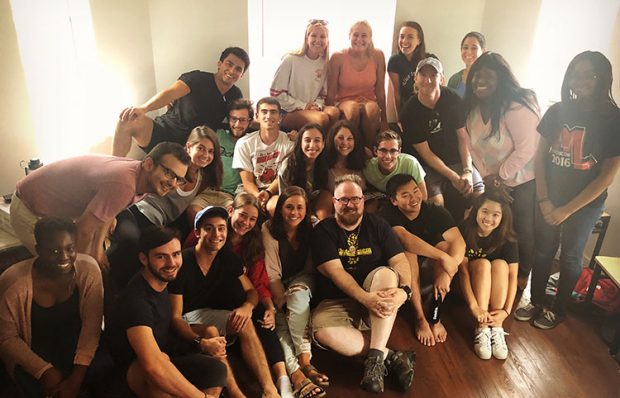 The day before camp, I attended the staff's final training session to share about Oren, Dads4Kesem, and the ways this camp is special to so many. They cheered when I told them Oren's children would be attending.