SUPERLUNCHNOTES
As Hispanic Heritage Month comes to a close, I wanted to celebrate the Latino superheroes I've had the privilege of introducing to my son via lunch notes over the years. While this list could be longer, I'm including just the heroes I've created notes for. As I doodle more, I'll add them periodically.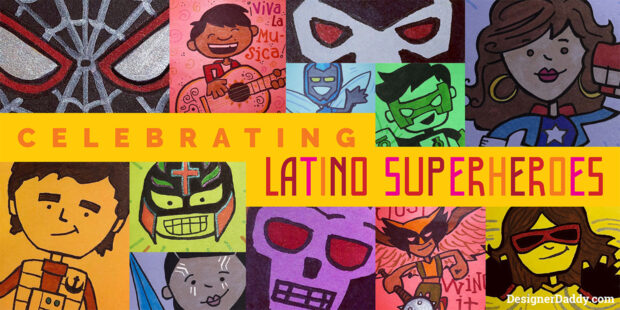 Throughout the year (not just designated months or days) I strive to teach my son to be curious about and appreciative of cultures and ethnicities different from his own. Often in the process, I discover new things myself. While researching for this article, I (finally) learned the significance of the September 15 start date of Hispanic Heritage Month, as well as the interwoven identity of Asian and Hispanic culture in the Filipino community. There were also a few characters that I didn't realize were Latino until writing this post.
As with other minority representation in American pop culture, the inclusion of Latino/Latina/Latinx superheroes in comics, TV, and film is often a slow progression. Changing the ethnicity of existing caucasian superheroes (or just introducing new non-white characters) is still met with pushback from narrow-minded fans. Yet my hope is that as my son's generation grows up with this more colorful and diverse universe, it will be reflected in the real world they create.