snacks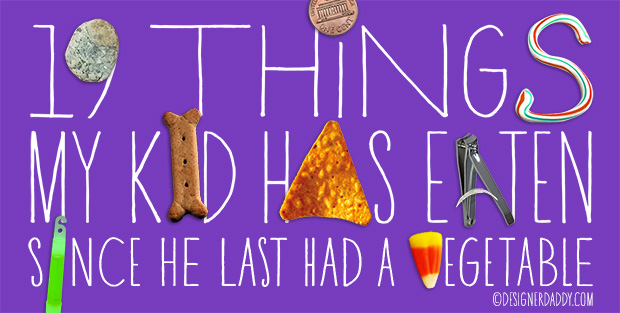 As parents, one of the most common struggles is getting our kids to eat. To eat healthy. To eat what's set before them. To eat at all.
My son's mealtime issues are multi-tiered — a parfait of frustration, if you will. Sitting still (or down) is a frequent battle; and as he's gotten older, he's become more resourceful in acquiring between-meal snacks. But the biggest hurdle has been his continuously dwindling palette, particularly when it comes to vegetables. While we do sneak them in sometimes (pureed cauliflower in pasta sauce is a favorite), the fact remains he won't knowingly put any sort of vegetable in his mouth.
But before I go on… If you're one of those Type A parents whose kids have eaten only well-balanced, organic, locally-grown meals since birth, you can just keep on scrolling. We have plenty of inadequacy on our plate already. And besides, don't you have some homemade kale-quinoa-almond milk popsicles to whip up?
Okay, now that they're gone, the rest of us can relax a bit and get down to business. As an exercise in catharsis, I've compiled a list for you. A ridiculously long, ridiculously gross list of 19 things my kid has eaten (or chewed, or put in his mouth) since the last time he willingly ate a vegetable.
Cringe at the carnage, be strong in the solidarity, and be sure to share your own weird, stomach-churning tidbits in the comments.
1.

Boogers
I figured I might as well get this one out of the way. While one of the most common and arguably most disgusting things kids ingest, I just don't get the appeal. Maybe it's the convenience of the short delivery route, or perhaps it's a child's first way of practicing recycling. Whatever the reason, I have no idea what the chemical make-up of boogers are, and I'm okay with that. But I'm pretty sure it's not vegetables.