robots!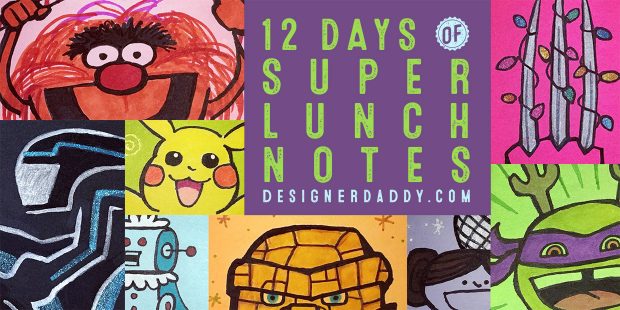 As with many of my ideas, this one started bright but with very little planning — certainly not enough to allow for the predictable unpredictableness of the holidays.
"I SHOULD DO A '12 DAYS OF CHRISTMAS' SUPERLUNCHNOTES! I'M SO NIFTY & CREATIVE! AND I'M SURE I CAN THINK OF ALL TWELVE, SO THERE'S NO NEED TO PLAN THIS OUT VERY FAR IN ADVANCE!"
I was zipping along doing a note a day to culminate on Christmas Eve. But then my 7 year-old got sick. Then some work crises sprung up. Then I traveled to Texas for a friend's funeral. Mix in all the seasonal insanity of shopping, decorating, planning — and for the first time in our new house — hosting, and that puts me here, on January 2nd, posting about Christmas. Right on schedule.

In my defense, my (after-the-fact) research shows that "The Twelve Days of Christmas" is in fact about the days following December 25th, not those preceding it. Ergo, this post is actually a little ahead of schedule. Gold star for me. ⭐

Blah, blah, blah — here are the notes, along with a few notes on the notes.