reviews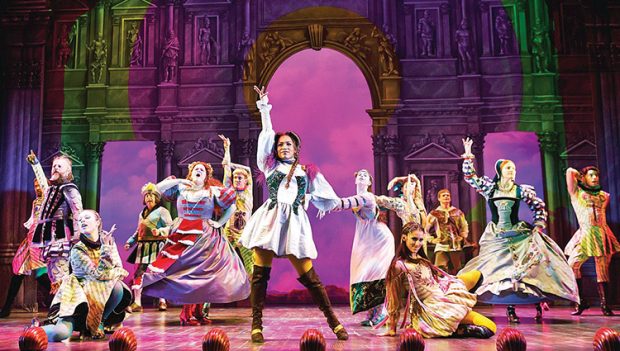 What do obscure Elizabethan poetry, a superstar drag queen, and the music of The Go-Go's have in common? At first glance, not a damn thing. Yet when these elements are combined in the new Broadway musical Head Over Heels, the result is a wacky, heartwarming explosion of fun.
A BIT OF BACK STORY
My connection to this musical is multi-layered, and probably not very fascinating to anyone but me — but I'm going to tell you about it anyway. I was attending Dad 2.0 Summit (as I do every year), where I met that rarest and most fabulous of creatures, a fellow gay dad blogger. I thought I knew them all, so was excited to make the acquaintance of Mr. Gavin Lodge. In addition to being a father, a husband and a blogger, Gavin mentioned that he was an actor and that he'd been cast as a standby in a new Broadway musical. My interest was peaked.
He described the show's story as taken from an obscure, Elizabethan text, and would be performed largely in iambic pentameter. (!) He told me it was called Head Over Heels, and would feature the music of The Go-Go's. (!!) He said it would also include the first trans actor to originate a role on Broadway. (!!!) I texted Papa about the show and that it would be in previews in New York starting in June and that we were going to get tickets. It was not a question.