monsters!
The start of the new decade also marks a couple of personal milestones: becoming a father and the birth of this blog. To commemorate ten years as both Daddy and Designer Daddy, I'm sharing a series of Top 10 lists throughout the year. Each post will feature the most amazing/fun/memorable things/experiences/whatevers from the last decade.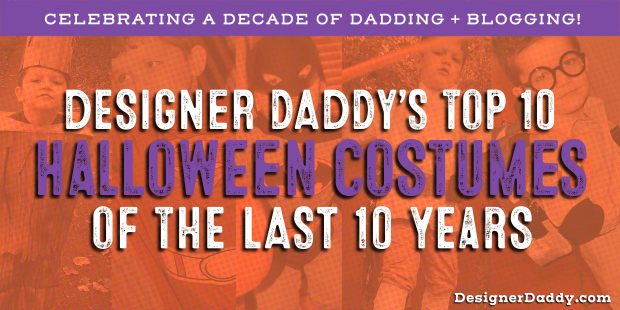 As a dad with a creative/crafty streak, few things have brought me more joy than dressing up my kid in Halloween costumes. It doesn't hurt that I also like to play dress up from time-to-time — but that's another list for another time.
This is quite the spooky scrapbook, documenting my son's favorite heroes and characters over the last 10 years. You may notice that some years are represented more than once. Typically, each year included a school party/costume parade as well as trick-or-treating, so some years I overzealously made two different costumes. This exhausting practice has since been retired.
Enjoy these magically monstrous moments, including tips on how to make/where to buy the costumes. And oh yeah, Happy Halloween!