kudos
The "fallout" from the boycott of American Girl just keeps getting sweeter. In November, right-wing fringe group One Million Moms called for a boycott against the American Girl company for featuring an 11-year-old girl with two fathers in their magazine. As Amaya and her dads are friends of our family, it frustrated and saddened me to see them attacked. However, the controversy gave the family an amazing platform to share their story and the amazing work they do through their charity, Comfort Cases. In an ironic twist, the flurry of media coverage resulted in a banner year for Comfort Cases, with a 65% increase in goods delivered to children in the foster care system, and a 300% increase in donations.
So how could it get any sweeter than that?
Dads Rob and Reece, Amaya, and her three brothers were recently honored at Family Equality Council's 2016 Impact Awards! The family was flown cross country to LA, where they got to walk the red carpet, hob-knob with celebs, and be recognized for their advocacy, their generosity, and for being such an inspiration to us all.
For both Rob and Reece, the most memorable part of the evening were the two standing ovations the family received from the crowd of over 500 celebrities, corporate sponsors, and activist. They were the only ovations of the night!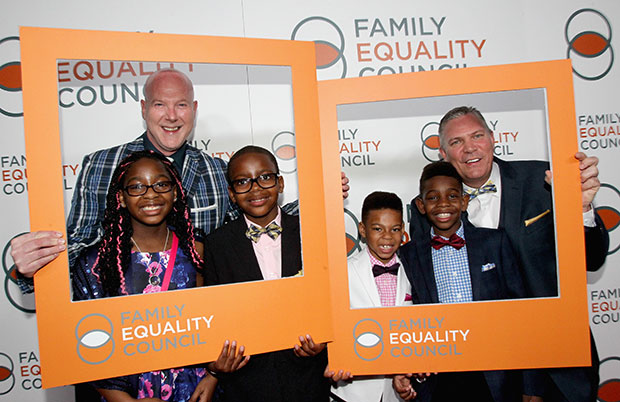 (L) Amaya, Reece, Greyson, (R) Tristan, Makai, and Rob on the red carpet at the 2016 Impact Awards. (Photo by Tommaso Boddi/Getty Images)