keep on rockin' me baby
Some of the best things about being a child are the boundless energy, unbridled imagination and a future filled with endless possibilities. The best thing about a child's art is that it contains elements of all these things… and that every work is a masterpiece.
In honor of Father's Day, I asked my dad friends to submit their kids' artwork. Whether it was something recent, something old, or commissioned specifically for this collection, the only requirement was that the papas be proud of it. What I received was an avalanche of awesomeness. Drawings. paintings and sculpture bursting with energy, imagination and endless possibilities. And lots and lots of color. If you know me and my design work, you won't be surprised if I "borrow" a color palette or two for future projects.
Curating this collection was no small feat, and after considering several options, I chose to group them by subject matter. This creates a nice mix of age, gender and medium in each batch. I realize there are a lot of pieces here, and that most of you probably get bored at art galleries (I know I do)… but please look through the entire gallery. This is spectacular work with some very hilarious, touching — and even rage-filled — back stories.
So welcome to the inaugural* FATHER'S DAY PROUD PAPA GALLERY OF GREATNESS (brought to you by Starbucks). Enjoy the exhibit, and please touch the artwork — it's even more awesome zoomed in!
Artwork credits key:
Title of work
medium
Artist name, age
Father of artist (links to their website/blog)
Artist's (or artist's dad's) description
. . . . . . . . . . . . . . . . . . . . . . . . . . . . . . . . . . . . . . . . . . . . . . .
HANDS + FEET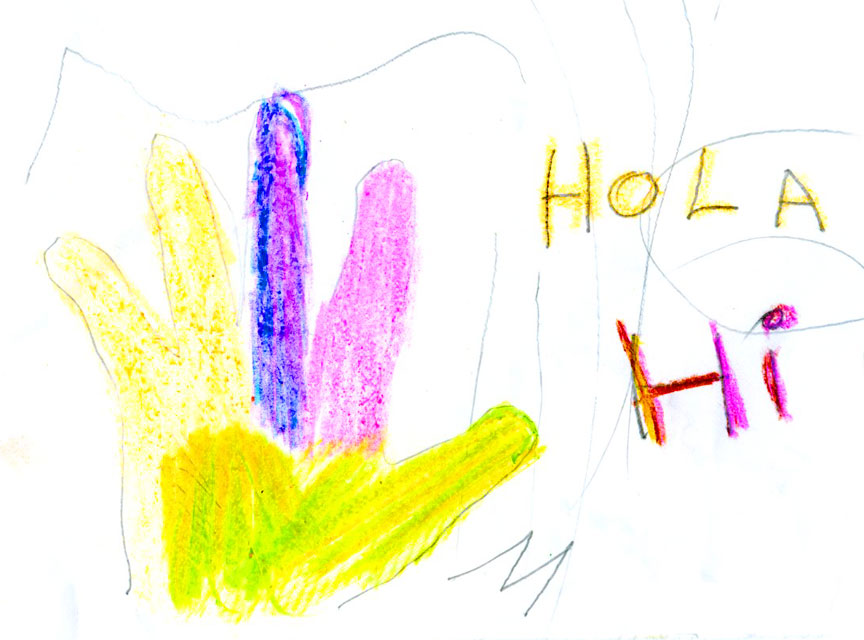 Hola Hand
pencil, crayon on paper
JJ, 3.5
Brent Almond
While he clearly got some help writing "Hola," the hand trace and vibrant, Latino colors are all him. Definitely going to nick this palette for my next logo project…
.