halloween
If you're frantically looking for easy, last-minute Halloween costume ideas, this is probably not the post for you. But if you love Halloween, creativity and the movies, you've come to the right place!
I recently started writing family-related content for Fandango, and my first assignment was an article about creative family Halloween costumes. Our family has always had a blast dressing up together, and I knew I had more than a few friends out there who did the same. So I pooled my massive sea of Internet resources, and they delivered… TOO MUCH! I ended up with more content than Fandango could use, so I wanted to give these other cinematically-creative families the spotlight on my own site. Go grab some popcorn, sit back, and enjoy these picturesque, movie-inspired Halloween costumes!
.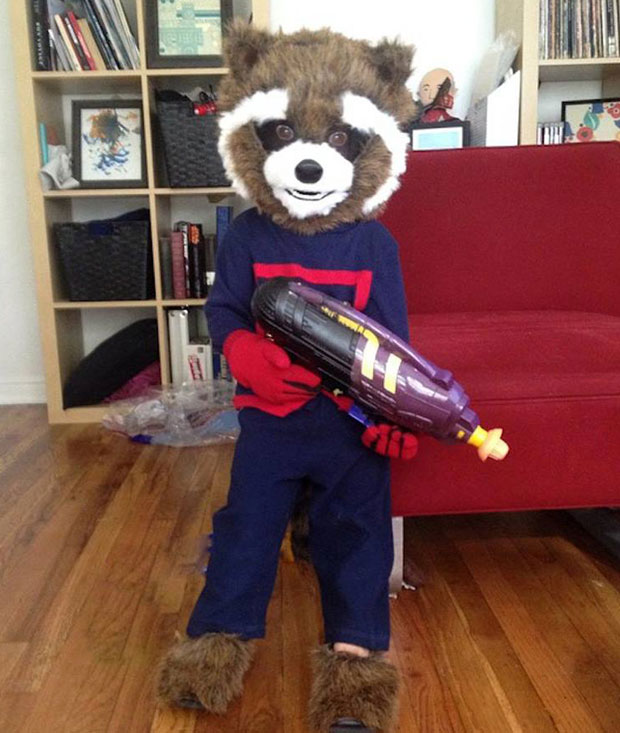 Rocket from Guardians of the Galaxy
An avid comic book fan, James decided to make his young son into Rocket Raccoon for an upcoming comic-con, who had seen (and been enamored by) the Guardians of the Galaxy trailer he'd seen on TV. The costume was a simpler version than shown here, but James made it all himself. At the convention it caught the eye of an experienced costumer who ended up making the custom mask, feet and tail shown in the photo. Way to work a room, Rocket! James' son will, of course, be trick-or-treating in his full Rocket gear this Halloween.
Get the look: The jacket was made by cutting up and sewing pieces from a red t-shirt onto a navy turtleneck, accented with gold buttons. The raccoon tail (found at a frontier shop) was sewn into the seat of blue sweatpants. Read more here.