girl power
and On March 24, 2018, hundreds of thousands of people attended March for Our Lives — a protest and call to action held in hundreds of cities in every state across the U.S. Yet even more amazing than the massive crowds were the many young speakers raising their voices in frustration, fear, anger, and mourning.
They voiced their frustration at the lack of any real change to America's gun laws in the last decade. They voiced the fear they experienced at school or in their neighborhoods as they were terrorized at gunpoint. They voiced their anger at the NRA and its influence over Congress, local legislators, and gun owners in general. And they voiced their sorrow — mourning siblings, cousins, classmates, teachers, friends and neighbors whose lives were — and continue to be — cut short by a culture of unfettered gun violence.
Yet with all of this against them, they spoke out — bravely, with purpose, and with hope.
On February 14, 2018, the latest (at this writing) mass shooting occurred in Parkland, Florida. Seventeen people were murdered at Marjory Stoneman Douglas High School, fourteen of them students. As there's not much new I can add to the conversation, I thought the best way to honor the silenced students was to amplify the same number of young voices from March for Our Lives.
. . . . . . . . . . . . . . . . . . . . . . . . . . . . . . . . . . . . . . . . . . . . . . .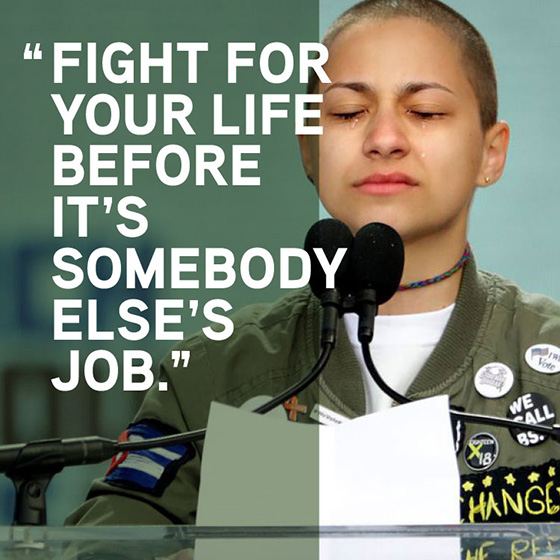 Watch Emma's entire speech to get the full effect of her message. And then please (PLEASE) leave a positive comment on YouTube to counter the avalanche of hatred she's enduring.

.