gay
If you've read this blog for any amount of time, you know Comfort Cases is one of my all-time favorite organizations. Founded by my dear friend Rob Scheer, Comfort Cases provides overnight cases and other personal items to kids in the foster care system. The charity was inspired by the fact that Rob, his own four children, and millions of other kids arrive at foster homes with very few belongings, typically stuffed into garbage bags. #NoMoreTrashBags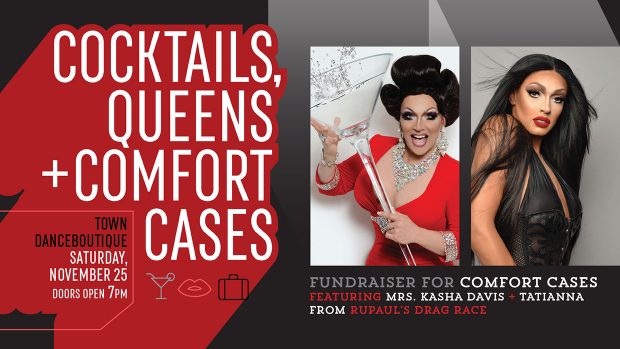 This Thanksgiving weekend, Comfort Cases is helping boost spirits (and hoping to raise LOTS of money) with an AMAZING drag show featuring two of the sparkling stars of RuPaul's Drag Race — Mrs. Kasha Davis and Tatianna!
THE DEETS:
Saturday, November 25 at Town Danceboutique. • Doors open at 7pm. • Tickets are $50 a person, and all proceeds benefit Comfort Cases. • This is a 21 and over event. • All tickets are general admission, so seating is first come, first served. • Drag show virgins: BRING DOLLAR BILLS, Y'ALL (Here's more helpful drag show tips)
Look, I know this is Thanksgiving weekend and all, but can you think of any better counter-programming to ALL THE DAMN FOOTBALL than this?!? Leave the dude-bros to their sportsball, grab your favorite girlfriends/boyfriends, and head to Town to raise a ruckus and some money for a great cause!
EXCLUSIVE DESIGNER DADDY BONUS PERK:
I'm giving away a Meet & Greet/Photo Op with Mrs. Kasha Davis & Tatianna to one lucky reader and a friend!
How to win:
•  BUY YOUR TICKET (GO HERE. NOW.)
•  Come back to this post (or Facebook, Twitter, and wherever else I share this), and leave a comment telling me what you're most thankful for.
•  Cross your fingers, snatch a four-leaf clover, kick a black cat out of the way, and hope you win!
Only one entry, per social media platform, per person. Winner will be notified by Friday, November 24. If you don't show up, I will hunt you down and force-feed you an entire turducken.