creativity
Some of my favorite moments as a dad are ones I don't even see. Like my son's face when he finds the note I put in his lunch every day. I make them either the night prior or before he gets up the next morning; I then sneak them into his lunch bag, and send him off to preschool with Papa. I've heard plenty of compliments about them — from Jon's teachers, his classmates, his classmates' parents. And every afternoon when I pick him up, I ask Jon if he liked his note — you know, as a way to strengthen his memory recall and attention to detail…
So even though I don't observe my son's daily discovery, or get to see his friends huddled in anticipation of each new character, I wouldn't have it any other way. I've been doing this for nearly a year now, and while it's sometimes a chore to keep coming up with new ideas, it also forces me to think of something positive to say as I send him out into the world each day. It's my little way of staying connected. A way to pass down my vast and vital knowledge of superheroes and pop culture. And it's a way to use my powers as a Dad for good!
For this Father's Day, I was included in a campaign for Oral-B called Power of Dad. One of the components was to post photos illustrating my paternal powers or other special fathering moments. I decided instead to dedicate a week's worth of SuperLunchNotes to the campaign, while offering some much-needed reminders to my son regarding oral hygiene. I'm setting my #PowerOfDad to stealth mode.
Below are the notes, each captioned with a feature of Oral-B's newest toothbrush, the Oral-B 7000 Black…and also a plug for their awesome floss.
.

WEEK 43: June 2 – June 6, 2014 (Oral Hygiene Week)

Hulk  |  The Count  |  Wonder Woman  |   Venom  |  Princess Leia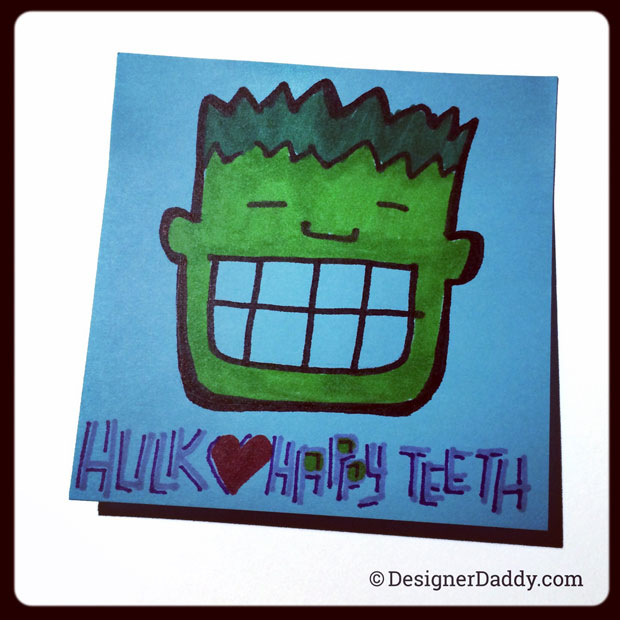 Indicator® bristles remind you to replace your brush head every 3 months (sooner, if you're a Hulk), or once they've faded halfway (or turned green, if you're a Hulk).
.