crafts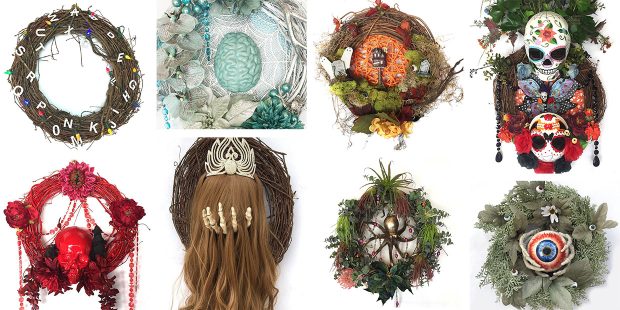 A couple of months ago, Andy Alexander reached out to me about helping promote his line of custom Halloween wreaths. I get a lot of requests like this, but they rarely meet my two requirements of A) being related to kids/family/pop culture, and B) looking cool as hell. Not only did Andy's work fit the bill, but he's also a fellow gay dad! So instead of just sharing a blurb on Facebook, I wanted to dust off the old DDQ&A questionnaire so you can all get to know Andy, his family, and his work.
BONUS: Scroll down after the interview and enter to win one of Andy's Grim Wreather creations just in time for Halloween!
Q&A with designer dad Andy Alexander

.
Walk me through the highlights of your design career.
I got my MFA from Art Center College of Design in Pasadena; I studied fine art at UCLA as well. I took my first design classes at Art Center knowing that I'd eventually need a "real" job. After college I worked for Belkin doing interface design for gaming hardware, then for Geoff McFetridge (who I consider a mentor), and then at Napster from 2004-2010. There I started as a designer, working my way up to Creative Director, managing the internal design group. I was laid off during the 2010 recession and decided to carve my own path in both the art and design world. And here I am!