causes + charities
A friend recently asked if I was going to the Pride festivities in DC this year. And for the first time in nearly 20 years, not only was I not going — it had completely slipped my mind.
I came out as gay my first year in DC, and Pride has been an important part of my history ever since. I've braved the crowds as a newly single man, sung with the Gay Men's Chorus from the main stage, took my brother to his first Pride as an out gay man, and marched in the parade with my husband and son, dressed as superheroes. DC Pride also falls near my birthday — often on the very day, as it did again this year.
But the weekend was already booked solid with decidedly non-gay activities, chores, and other familial stuff long before my friend's reminder. On Friday night — as younger LGBTs were disco-napping and float-building — I was corralling my son into bed and mentally reviewing the weekend's busy schedule, when I was inspired to create this graphic: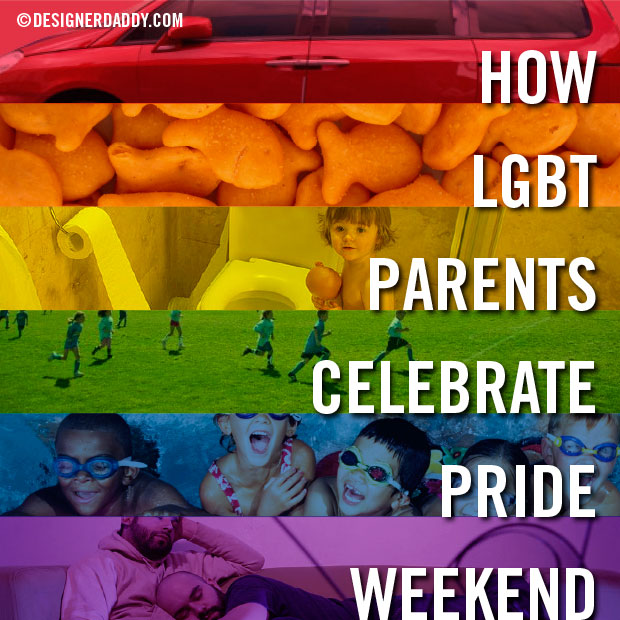 I posted it on Facebook Saturday morning, with this caption:
So how do LGBT parents celebrate gay pride? Well, for this gay dad, mimosas are replaced by juice boxes; Dykes on Bikes give way to tykes on trikes; shirtless go-go boys become toddlers streaking thru the sprinkler. And the only drag is us dragging our tired bodies to bed well before midnight.
Our hair may be grayer, but our lives couldn't be any more colorful!
.
I don't do a lot of memes, but I was feeling a bit out of the loop, and this made me feel a bit more Pride-y. By the reactions I got from many of my LGBT parent friends and readers, it rang true with them as well.