cartoons
As a lifelong fan of Charlie Brown, Snoopy and the gang, I'm more than a little excited about The Peanuts Movie. However, other than the holiday specials, the 65-year-old brainchildren of Charles Schulz have lost a lot of their cultural impact. My 5-year-old knows who Snoopy and Charlie Brown are, but just barely. I can't wait to fully introduce him to these beloved characters in their big screen debut.
And yet, I can't help but worry that some of the depth and nuance — the humanity — of the Peanuts gang will be lost in this glossy, animated translation. The comic strips always had a subtle, adult sensibility to their humor that I fear may get dumbed-down by Hollywood. I could be wrong, but just in case…
…how AWESOME would it be if there was a version starring real, live, adult actors? I'm sure the kids doing the voice acting in the film will do a swell job, but having adult embodiments of the characters would definitely make them more interesting for this older-than-G-Rated-fan.
With that in mind, below is my fantasy cast. I doctored the actors' headshots a bit to help sell the match-ups… in case that wasn't clear. (Warning: not all links are family friendly or SFW.)

. . . . . . . . . . . . . . . . . . . . . . . . . . . . . . . . . . . . . . . . . . . . . . .
THE REAL PEANUTS MOVIE
starring:
LOUIS C.K.

as CHARLIE BROWN


.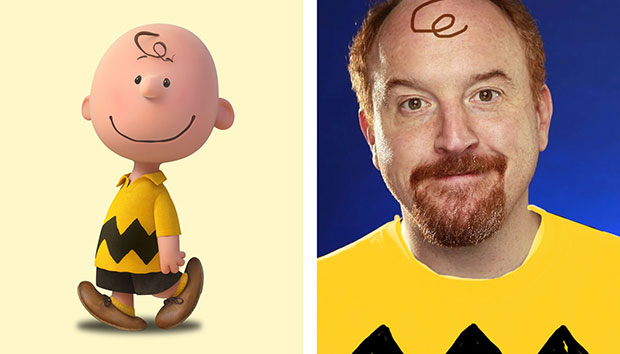 Who better to portray the film's loser of a leading man than comedian Louis C.K.? A master of self-deprecation — and similarly doughy and balding — C.K. is the perfect grown-up (and slightly more bitter) C.B.
READ FULL ARTICLE >>