baby pictures
Christmas is often idealized as a time of reflection, to pause and consider life, family, world peace — lightweight stuff like that. But I can't remember the last time the days between Halloween and New Years resembled anything remotely meditative or peaceful.
I could blame consumerism, box stores and maga-malls; the colder, shorter days; my rambunctious 5-year-old; Obama. But if I'm being honest, it's all my own doing. If there's going to be any inner dialog, it's on me to stop and listen. So one recent evening I sat in view of our tree* and took it all in. Glowing lights in our dimly lit dining room, twinkling and reflecting off the orbs and odd shapes adorning a sweet-smelling fir. I let my eyes wander from ornament to ornament, remembering where and when they were purchased, what was happening in my life. It was like spending time with old friends — you may not see one another very often, but your history is deep and your reconnection easy.
In taking these moments, in making these observations, I came to realize some of these baubles were among my oldest possessions. Outlasting furniture, clothes, photographs, albums, books. Tokens from nearly every year of my life hung from this tree. It was a feeling both comforting and weighty — but it had given me the space and peace of mind I'd been seeking.
. . . . . . . . . . . . . . . . . . . . . . . . . . . . . . . . . . . . . . . . . . . . . . .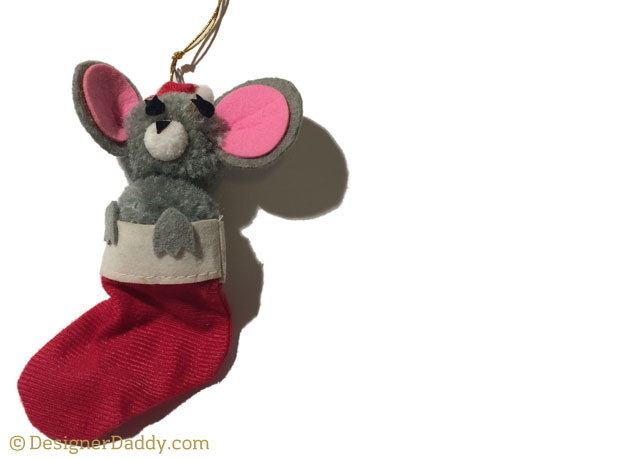 Mouse, circa 1976
I've owned this mouse made of felt and yarn longer than anything else in my possession. I don't know exactly where or when it was purchased, but I've always known it as being from my brother. The photo may not show, but it's yellowed and frayed in spots. Yet I'll hold onto it as long as I can, clutching close the memory of our childhood, our innocence and friendship, before dogma and condition and uncomfortable silence took its place. And I'll hold a little hope that some of the former will return.