Search
And then there were 15. Just over a dozen states remain either defiant against or dragging their heels on legalizing same-sex marriage. 62.4% of Americans now live in a state where same-sex marriage is legal. As we get down to these last few hangers-on, I'm tempted to highlight the ironies of the infamously anti-gay events and people these states have produced. But I'm in more of a celebratory mood, and will refrain from such pettiness.
For example, it would be tacky to mention Matthew Shepard was beaten, tied to a fence and left to die outside Laramie, Wyoming. Or that his death and the ensuing outcry is what many consider the turning point for LGBT rights in the United States.
I'd certainly never remind you that while Kansas is where Dorothy Gale hails from, it's also where Fred Phelps called home and set up his hate-mongering "church."
And heaven forbid I list some of South Carolina's greatest hits, which include Strom Thurmond, Linda Oliver, Earl Ballard, Lindsey Graham, Mark Sanford, and Bob Jones University.
As for Montana… well, I honestly don't know much about Montana. Isn't that where Miley Cyrus is from?
In all seriousness, I was particularly excited about same-sex marriage in South Carolina. The legal announcement also brought with it the engagement announcement of some very dear friends. Rob and Dwight have been together for 13 years; they moved back to Charleston from DC several years ago to be closer to their extended families. It was a difficult move to make, so I'm beyond ecstatic the courts have rewarded their commitment to family by allowing them to become a legal family at long last. Congratulations, guys! I'll be waiting by the mailbox for an invitation!
.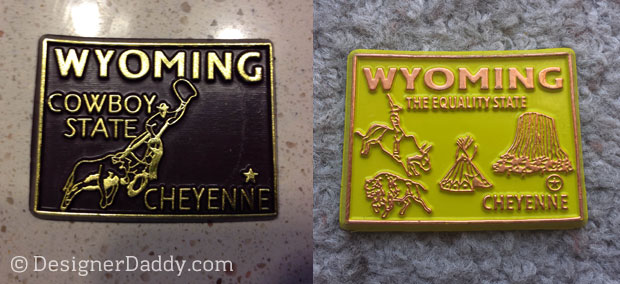 Wyoming: same-sex marriage legalized Oct 17, effective October 21, 2014. (L to R: Magnets courtesy of Chad Welch and Brad Gordon)
. . . . . . . . . . . . . . . . . . . . . . . . . . . . . . . . . . . . . . . . . . . . . . .