DESIGN STUFF
Design, art & crafts I've created, or stuff by others I dig.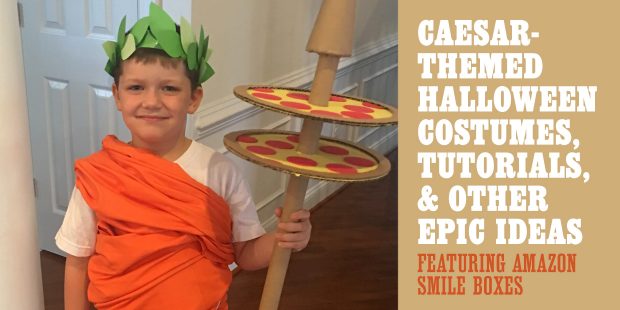 This is a sponsored post written by me on behalf of Amazon, as part of my participation in the Mom It Forward Influencer Network; the content and opinions are my own.
Since my son's very first Halloween, I've had a blast channeling my creativity into our family's costumes. I love the challenge of trying to pull together something unique, fun, and not too difficult — all while placating the kid and not embarrassing the husband (too much).
This year I'm kicking the challenge up a notch in a partnership with Amazon… our costumes will include repurposed Amazon Smile boxes! The official term is "BOXTUME," by the way.
GET STARTED!
.
After you've read through my step-by-step directions, go grab all the Amazon Smile boxes you can find, get to brainstorming, and come up with your own boxtume masterpiece! If you don't have any boxes, take the opportunity to get a head start on your holiday shopping, or empty out your own wish list! Amazon Prime has pretty much anything you need (including everything used to make these costumes!) and has the fastest — and free-est — delivery around!
Then snap a photo of your cardboard creations and share it on social media using the hashtag #Boxtumes.
. . . . . . . . . . . . . . . . . . . . . . . . . . . . . . . . . . . . . . . . . . . . . . .
OUR COSTUMES
First of all, I didn't want to make anything too literally boxy. Who wants to walk around a party or crowded sidewalk in a giant box? That's a spilled bag of candy waiting to happen!
So to keep things relatively easy, these start with a toga base. Why togas? Togas are comfy, simple to make, and can be easily layered with long johns or sweats if it's chilly on trick-or-treat night. Also because I came up with some awesome visual puns around everyone's favorite toga-wearer, Caesar!
LIL' CAESAR